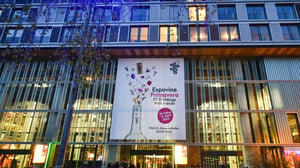 PRIMAVERA
Become an exhibitor
EMBRACE THE NEW WINE YEAR
The EXPOVINA Primavera is much more than just an attractive addition to the Zurich wine ships and more than your response as a producer and wine specialist to the price competition of distributors. For you, it is the start of a new wine year! An ideal opportunity to offer your current selection and the new vintage for tasting in spring, and to create valuable personal contacts with a new, perhaps slightly different, younger customer segment. And finally, your loyal customers will also be fascinated by your trendy offering in the magnificent ambiance of PULS 5. We look forward to a successful 16th edition of EXPOVINA Primavera with you.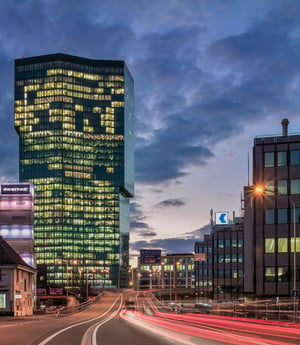 EXPOVINA Primavera
The rising district of Zürich - West
Over the past two decades, the western part of Zurich has undergone a remarkable transformation. The departure of the industry has created urban space for the development of creative ideas. What was once an industrial area has now become a distinct and attractive district. Known as Zurich West, this area surrounding Escher-Wyss-Platz and Hardturm has definitely grown into the trendsetting quarter of the Limmat Metropolis. In 2004, the iconic PULS 5 was opened at its center, followed by the premiere of EXPOVINA Primavera in the former Escher-Wyss foundry hall a year later. The Primavera presents a real opportunity for the wine trade to showcase current wine trends to an open-minded audience in a unique and vibrant atmosphere, even in the springtime.
Dubbed as the "wine fair of the future," EXPOVINA Primavera in PULS 5 has good reason to earn this title. The development of Zurich-West is far from over, not even close to halftime. In the past decade, the population in Zurich's 5th district has grown by over two-thirds. Today, there are over 8,000 residents alone in the western part of this trendy neighborhood, where factories stood just a few decades ago. Adding to its allure, Zurich-West is also the youngest district in the city, boasting a higher percentage of young and affluent individuals than anywhere else in the Limmat metropolis.
Furthermore, the remarkable dynamism of Zurich-West is evident in its rapid job growth. In 2005, there were 19,200 people employed in this trendy quarter, and today that number has risen to around 33,000. The city foresees an additional 10,000 jobs in the long run, with over three-quarters of these positions being filled by commuters. For businesses offering goods or services in the area, this translates to a significant number of additional customers.
Discover more about Zurich West.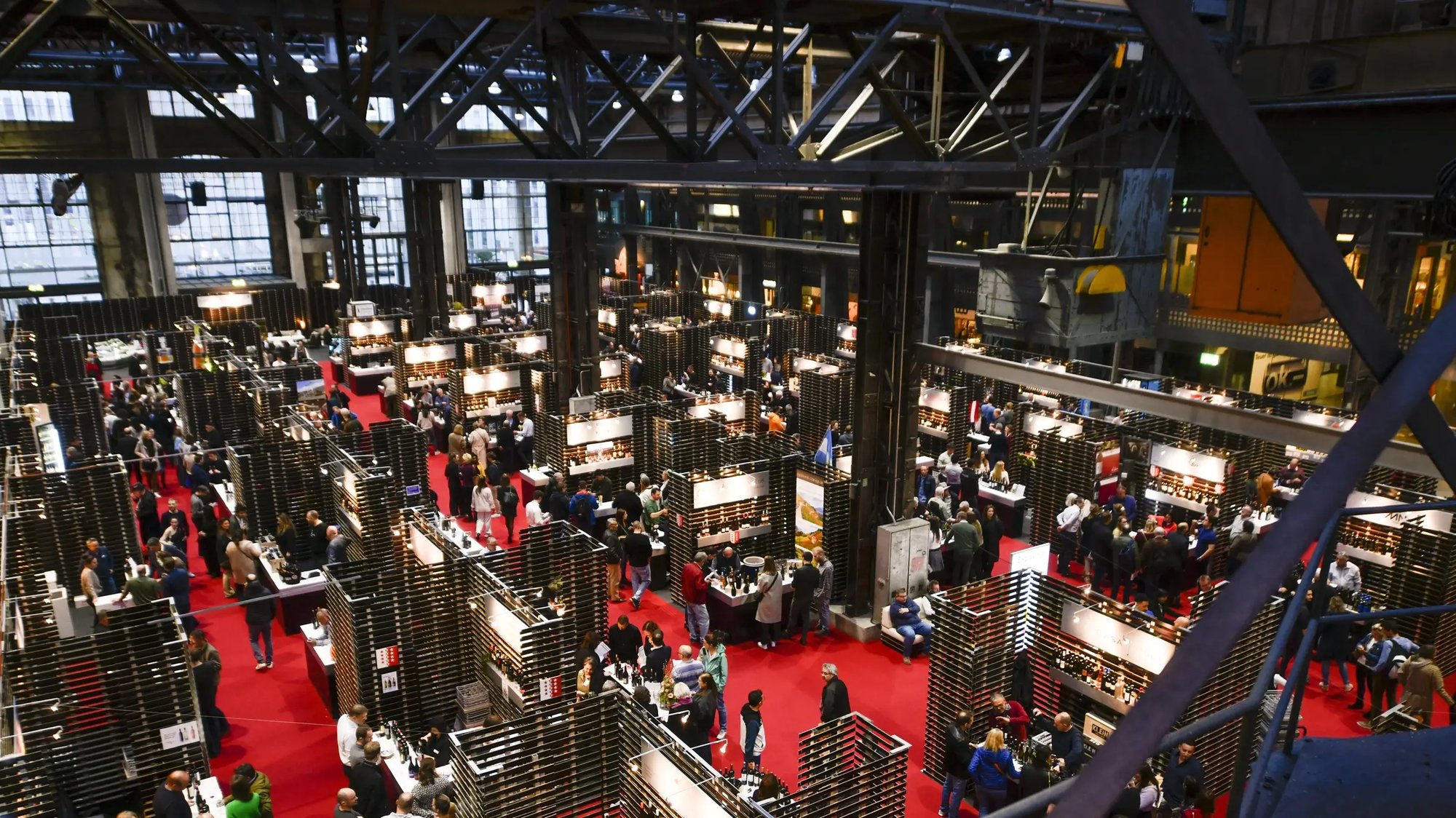 Aussteller Informationen - Primavera
STANDGESTALTUNG
With its generous concept, each stand becomes a visitor-friendly corner stand that offers plenty of space for tasting, as well as for consultation and conversations.
A spacious stand layout
Stylish and unobtrusive, the stands create a framework that puts your wines in the spotlight and invites your customers to linger. Both the smaller (3 × 2 m) and the larger (4 × 2 m) stand versions feature a logo panel, a wall shelf for wine presentation, and a wide tasting counter. Depending on availability, double stands can also be rented.
Additional Services Stand Equipment
You have access to a variety of additional services through the Exhibitor Portal to enhance the design of your booth. This includes products such as wine climate cabinets, power connections, and various stand accessories for wine tastings.
Additional Costs:
Additional Costs:
The extra expenses amount to approximately 40% of the net rent for your booth.
They include: a listing in the trade fair catalog and online platform, contribution towards the printing of invitation flyers with complimentary tickets, and/or provision of electronic tickets, use and distribution of tasting glasses, assistance with wine delivery and storage, exhibition cleaning and disposal, electricity consumption, and fridge connection.
exhibitor portal
All exhibitors will be granted access to a personalized exhibitor portal. Within this portal, they can easily maintain their essential contact information, such as billing addresses and marketing contacts, while conveniently booking all additional services in a single shop.
PRIMAVERA MEDIO
auf Anfrage
Ein Wandbord zur Präsentation der Weine
Eine breite Degustationstheke
Standbeschriftung (Standnummern. Katalogseite, QR Code App)
PRIMAVERA GRANDE
auf Anfrage
Ein Wandbord zur Präsentation der Weine
Eine breite Degustationstheke
Standbeschriftung (Standnummern, Katalogseiten, QR Code App)
PRIMAVERA DOPPIO
auf Anfrage
Doppelstand bestehend aus 2 Medio Modulen
Je ein Wandbord zur Präsentation der Weine
Standbeschriftung (Standnummern, Katalogseiten, QR Code App)
Durchgang zwischen den Ständen offen
Aussteller Informationen - Primavera
MARKETING DIENSTLEISTUNGEN
With our extensive advertising and PR campaign, we aim to reach not only experienced wine connoisseurs but also a younger urban audience who are eager to explore the fascinating world of wine. As an exhibitor, you will benefit from numerous new contacts and customers.
The campaign includes the following measures:
F12 posters
Advertising on public transportation
Advertising on local radios and television
Extensive presence in print media
Editorial coverage in both print and electronic media
New media platforms such as Facebook and Instagram
Catalog and advertising pages.
A comprehensive catalog featuring the exhibitor's offerings will be given to all trade show visitors for free. Each exhibitor is required to reserve at least one page in the catalog. Additional product pages or promotional pages can be booked separately in the exhibitor portal.
Tickets for Customers
A successful trade fair is created through a great mix of loyal and new customers. To attract loyal customers, the trade fair provides e-flyers and paper vouchers. A minimum quantity is required per exhibitor to order for their customers on the portal.
Exhibition Application
As part of our commitment to sustainability and staying ahead of market trends, Expovina also offers a Trade Fair App for your convenience.
Primavera
Advertising strategies -
Advertising on billboards in train stations, bus stops, trams, advertisements in industry magazines and daily newspapers, as well as radio and television commercials.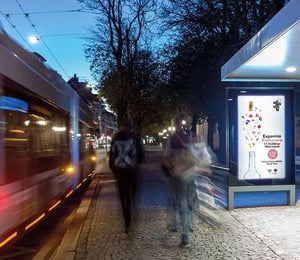 TOUCH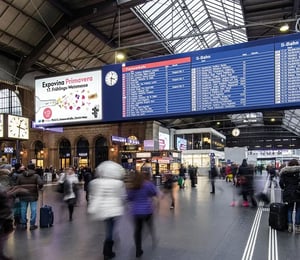 TOUCH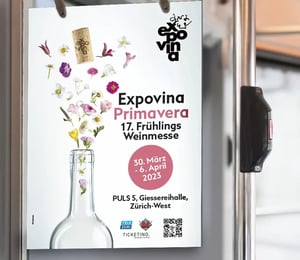 TOUCH
Lageplan Puls 5 - Zürich - West
ANFAHRT - PRIMAVERA
Der PULS 5 ist optimal gelegen und mit öffentlichen wie privaten Verkehrsmitteln bequem zu erreichen.

Öffentlicher Verkehr:
Mit Tram Nr. 4 ab Zürich HB-Bahnhofquai und HB-Sihlquai sowie ab Zürich-Altstetten Nord.
Mit Tram Nr. 17 ab HB-Bahnhofstrasse, HB-Bahnhofquai und HB-Sihlquai nach Förrlibuckstrasse.
Von den Stationen Technopark und Förrlibuckstrasse ist der PULS 5 zu Fuss in 2 bis 3 Minuten erreichbar.
Die Buslinien 33 und 72 halten auf der Hardbrücke an der Station Schiffbau, sowie auch die Tramlinie Nr. 8, quasi vor der Haustür.
Vom Bahnhof Hardbrücke ist die EXPOVINA Primavera zu Fuss in maximal 10 Minuten erreichbar.
Private Verkehrsmittel:
In wenigen Minuten erreicht der motorisierte Besucher aus Richtung Bern/Basel und aus der Ostschweiz über die Autobahnausfahrt Zürich-City die Hardturmstrasse. In der Umgebung stehen sechs Parkhäuser, etliche Parkplätze und ein Park & Ride zur Verfügung.
Anmeldeformular für Aussteller