HEAVEN FOR WINE ENTHUSIASTS &
CULINARY FESTIVAL
The Expovina wine ships are not only a paradise for wine lovers, but also a culinary extravaganza. Immerse yourself in the diverse gourmet world that begins right at the pier. Whether it's crispy wood-fired pizza prepared by a pizza world champion, authentic Zürcher Würstli, or exotic Tibetan momos - there's something for every palate. A must-try for all visitors are our legendary Expovina Chäschüechlis and the hearty raclette served in cozy chalets on the dock. For fondue lovers, the traditional fondue ship sets the right course, complemented by other delicacies such as Entrecôte Café de Paris. A brand-new attraction is the Ristorante Amora, which lures lovers of Italian Tavolata to the sun deck of the Panta Rhei.
As the crowning finale, we present an exclusive partnership with Dreierlei on the Klubschiff. This top-class innovative catering concept will transform your private event into an unforgettable culinary experience on the Expovina Klubschiff. It's a delight that you shouldn't miss!
Culinary diversity on board and at the pier to suit every budget.
Pier Food
EXPOVINA FOOD CORNER
At the pier, you can expect specialties from food trucks around the world. Indulge in delicious Momos from Tibet at Tenz, savor authentic Neapolitan pizza from a world champion at Napoule, relish in Asian delicacies from "Marmar cuisine orientale," or treat yourself to traditional Zurich delights from Keller.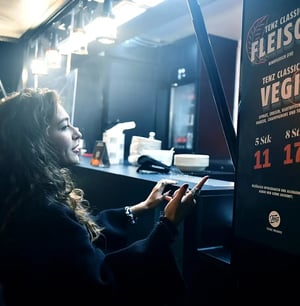 Fondue Schiff+
TRADITIONELLES FONDUE SCHIFF
Welcome aboard the Panta Rhei: Indulge in traditional fondue with plenty of Chasselas from Vaud! New this year: Papet Vaudois or succulent "Entrecôte Café de Paris". Explore a selection of award-winning wines from the Expovina Wine Trophy 2023 on our wine list. Reservations recommended.
+41 78 261-1878 (ab 2.11.)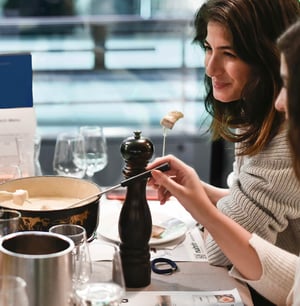 Restaurant Sundeck Panta Rhei
RISTORANTE AMORA
For all lovers of Italian Tavolata and Pasta cuisine, we have something special this year: The Ristorante Amora opens its Italian Tavolata on the Sundeck of Panta Rhei. Take the opportunity to experience unforgettable moments in a beautiful Italian ambiance with a view of the ships and the picturesque city of Zurich in the autumn evening light.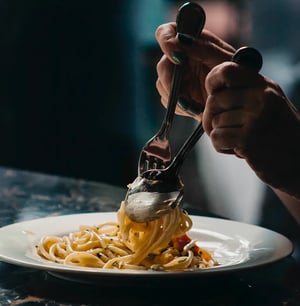 SPICES TO SATISFY EVERY PALATE
Experience the captivating world of Nahrin spices to add a unique and flavorful touch to your dishes. Our food stands offer exclusive Nahrin products that are naturally healthy and valuable, providing you with endless culinary possibilities.

Châlets am Steg
EXPOVINA CHEESE TARTS & RACLETTE RETREATS
Expovina: Where wine and cheese are celebrated in traditional style! Make sure not to miss the iconic Chäschüechli, a must-try delicacy that you can enjoy while surrounded by the charm of two ships in the chalet. And this year, we have an exciting addition for you: Indulge in Raclette, a perfect choice for those in-between moments, served with delectable cornichons.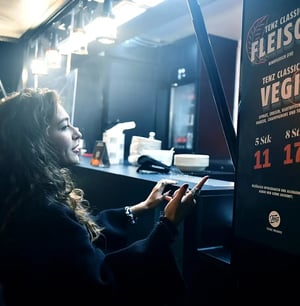 Châlets am Steg
Dreierelei - Your Ultimate Culinary Partner for EXPOVINA KLUBSCHIFF Catering
We take great pride in introducing our catering partner for club ship corporate and private events. Dreierelei, our catering partner, will take you on an unforgettable culinary journey. With a passion for exceptional food and top-notch service, Dreierelei creates unforgettable palate delights that will enchant your senses. | Discover more about Dreierlei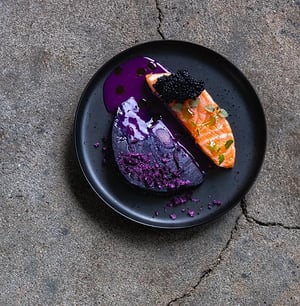 EXHIBITION INFORMATION
SHIP LOCATION MAP - 2023
Gastronomy Locations:
- Club Ship #1
- Panta Rhei #4
- Pier Food #5
- Raclette & Cheese Tart Chalets on the Stegen
A. Sieber & Frozen Lake Fun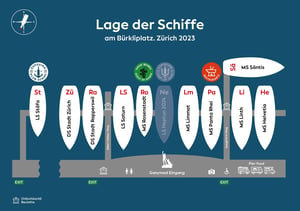 1
Gastregion: Auf dem Klubschiff erwarten Sie Masterclasses, VIP-Veranstaltungen und Parties. Tickets für diese Anlässe finden Sie auf unserer Ticketing-Seite.
2
Gastregion: Täglich begrüssen wir neue Waadtländer Weinbauern an Bord der MS Rosenstadt. Für das 'Guest of Honor'-Konzept zeichnet das Office des Vins Vaudois verantwortlich. Das Angebot der Gastregion wird durch Masterclasses und eine Soirée Vaudoise abgerundet. Tickets hierfür finden Sie in unserem Ticketshop.
4
Gastronomieschiff mit traditionellem Fondue, Café de Paris und dem neuen "Ristorante Amora" für Liebhaber der italienischen Küche.
3
Das Pop-up Schiff 'Neptun' ist dieses Jahr leider nicht dabei. Den Launch mussten wir auf das nächste Jahr verschieben. Doch im Geiste soll es bereits seinen Platz einnehmen. Zur Einführung des Projekts bieten wir auf den Schiffen bereits einzelne Pop-up-Stände, auf denen wir junge Wein-Start-ups vorstellen. Die Pop-ups wechseln wöchentlich. Informationen zu den einzelnen Pop-ups finden Sie online oder auf separaten Flyern am Eingang.
5
Pier Food: Geniessen Sie Momos, Pizza aus Napoli, Züri-Würste sowie Waadtländer Spezialitäten. Die Pier-Food-Stände bleiben auch nach der Ausstellung geöffnet, sodass Sie den Tag gemütlich ausklingen lassen können.
6
Barrierefreier Zugang. Parkplätze befinden sich unmittelbar hinter dem ZSG-Tickethaus. Bitte bestellen Sie Ihre Tickets online, um Wartezeiten zu vermeiden.
7
Fotospot: Machen Sie coole Fotos mit Ihren Freunden für Ihre Social-Media-Seiten! #expovina
8
Chäschüechli und die neuen Raclette-Chalets finden Sie auf den Stegen. Probieren Sie unbedingt die legendären Expovina-Chäschüechlis sowie die diesjährige Waadtländer Variante mit Lauch.
G
Garderoben finden Sie sowohl rechts als auch links hinter dem Eingang. Tickets können im Voraus online erworben werden. Grosse Taschen und Rucksäcke sind auf den Schiffen nicht gestattet. Bitte beachten Sie, dass es warm werden kann.
K
Auf der Ganymed-Terrasse befinden sich der Haupteingang sowie die Ticketkassen. Um lange Warteschlangen im Freien zu vermeiden, empfehlen wir den Kauf im Voraus online. Auf unserer Ticketseite können Sie mit nur wenigen Klicks ein Ticket erwerben, auch mit einem Gutschein-Code.